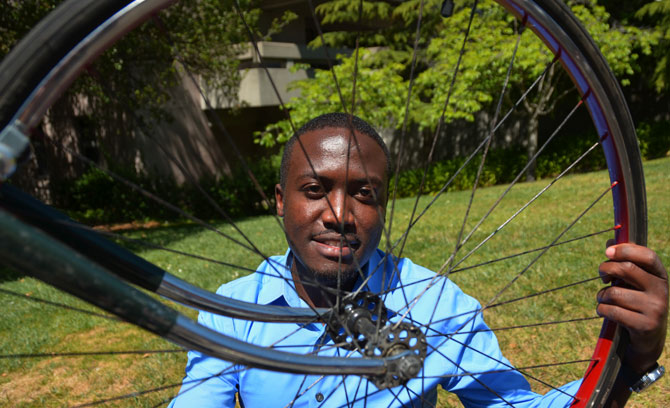 Growing up, I saw death, after death, after death, including both my parents, so that's my real motivation…
-Chris Ategeka
BERKELEY — Tension-spoked wheels. Triangular metal frame. Crank-and-chain drivetrain. The bicycle is perhaps man's simplest means of self-propelled transportation.
For graduate student Christopher Ategeka, however, the humble machine propelled him on a journey from the dirt tracks of East Africa to Oakland's asphalt streets and the lecture halls and labs of UC Berkeley.
"Just a few years ago, I didn't have anything, not even shoes on my feet," says Ategeka, recalling the struggles of childhood as an AIDS orphan in rural western Uganda.
"The day I got my first bike, my life changed completely," he adds.
Today, the 28-year-old, who completed his master's degree in mechanical engineering in double-quick time last year, splits much of his time and energy between the no-cost bicycle nonprofit he launched to empower disadvantaged Ugandans and the biotech startup he co-founded recently to tackle the spread of HIV/AIDS in Africa.