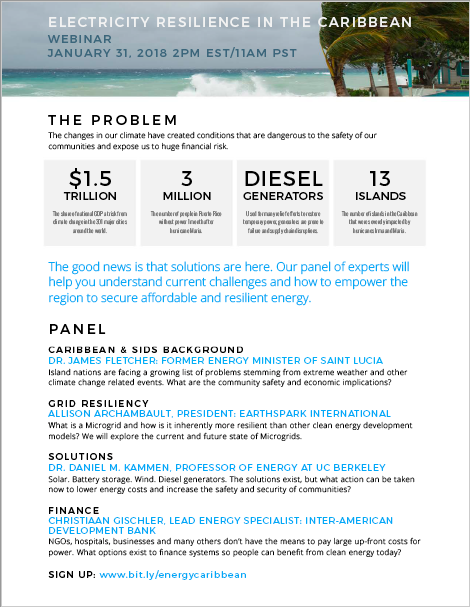 PANEL:
CARIBBEAN & SIDS BACKGROUND:
DR. JAMES FLETCHER: FORMER ENERGY MINISTER OF SAINT LUCIA
Island nations are fac­ing a grow­ing list of prob­lems stem­ming from extreme weather and other cli­mate change related events. What are the com­mu­nity safety and eco­nomic implications?
GRID RESILIENCY:
ALLISON ARCHAMBAULT, PRESIDENT: EARTHSPARK INTERNATIONAL
What is a Micro­grid and how is it inher­ently more resilient than other clean energy devel­op­ment mod­els? We will explore the cur­rent and future state of Microgrids.
SOLUTIONS:
DR. DANIEL M. KAMMEN, PROFESSOR OF ENERGY, UC BERKELEY
Solar. Bat­tery stor­age. Wind. Diesel gen­er­a­tors. The solu­tions exist, but what action can be taken now to lower energy costs and increase the safety and secu­rity of communities?
FINANCE:
CHRISTIAAN GISCHLER, LEAD ENERGY SPECIALIST: INTER-​​AMERICAN DEVELOPMENT BANK
NGOs, hos­pi­tals, busi­nesses and many oth­ers don't have the means to pay large up-​​front costs for power. What options exist to finance sys­tems so peo­ple can ben­e­fit from clean energy today?