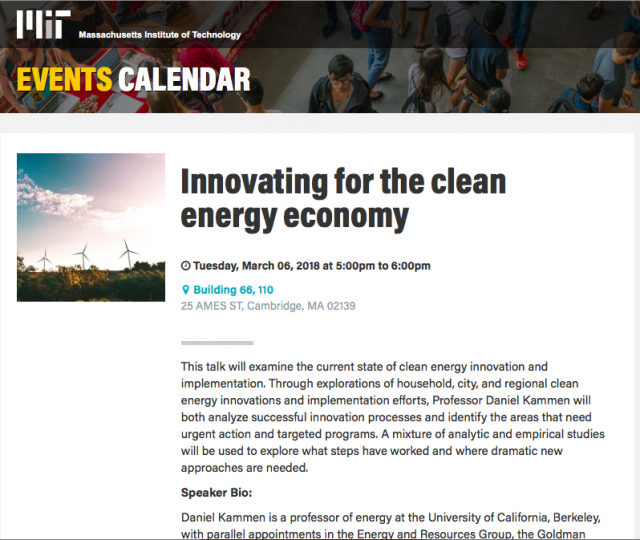 This talk will exam­ine the cur­rent state of clean energy inno­va­tion and imple­men­ta­tion. Through explo­rations of house­hold, city, and regional clean energy inno­va­tions and imple­men­ta­tion efforts, Pro­fes­sor Daniel Kam­men will both ana­lyze suc­cess­ful inno­va­tion processes and iden­tify the areas that need urgent action and tar­geted pro­grams. A mix­ture of ana­lytic and empir­i­cal stud­ies will be used to explore what steps have worked and where dra­matic new approaches are needed.
Speaker Bio:
Daniel Kam­men is a pro­fes­sor of energy at the Uni­ver­sity of Cal­i­for­nia, Berke­ley, with par­al­lel appoint­ments in the Energy and Resources Group, the Gold­man School of Pub­lic Pol­icy, and the Depart­ment of Nuclear Engi­neer­ing. Kam­men is the found­ing direc­tor of the Renew­able and Appro­pri­ate Energy Lab­o­ra­tory and for­mer direc­tor of the Trans­porta­tion Sus­tain­abil­ity Research Cen­ter. His research focuses on energy sup­ply; trans­mis­sion; the smart grid and low-​​carbon energy sys­tems; the life-​​cycle impacts of trans­porta­tion options; and energy for com­mu­nity devel­op­ment in Africa, Asia, and Latin Amer­ica. He has pub­lished exten­sively on these top­ics and tes­ti­fied numer­ous times in U.S. state and fed­eral con­gres­sional brief­ings. In 2010, Kam­men was appointed the first energy fel­low of the Envi­ron­ment and Cli­mate Part­ner­ship for the Amer­i­cas; he has also served the state of Cal­i­for­nia and the U.S. fed­eral gov­ern­ment in sev­eral other expert and advi­sory capacities.
Fol­low Kam­men on Twit­ter @dan_kammen
_​_​_​_​_​_​_​_​_​_​_​_​_​_​_​_​_​_​_​_​_​_​_​_​_​_​_​_​_​_​_​_​_​_​_​_​_​_​_​_​_​_​_​_​_​_​_​_​_​_​_​_​_​_​_​_​_​_​_​_​_​_​_​_​_​_​_​_​_​_​_​_​_​_​_​
This MITEI Sem­i­nar was made pos­si­ble with the gen­er­ous sup­port of IHS Markit.
Please note this is a pub­lic event and we will open our doors to unreg­is­tered par­tic­i­pants 15 min­utes before the event start time. To guar­an­tee your seat, we rec­om­mend you reg­is­ter and arrive at least 15 min­utes early.
If you are not able to attend, note there will be a high-​​quality record­ing of this sem­i­nar made avail­able on our YouTube chan­nel about a week fol­low­ing the event.
_​_​_​_​_​_​_​_​_​_​_​_​_​_​_​_​_​_​_​_​_​_​_​_​_​_​_​_​_​_​_​_​_​_​_​_​_​_​_​_​_​_​_​_​_​_​_​_​_​_​_​_​_​_​_​_​_​_​_​_​_​_​_​_​_​_​_​_​_​_​_​_​_​_​_​
The MIT Energy Ini­tia­tive is MIT's hub for energy research, edu­ca­tion, and out­reach.
Learn more at energy​.mit​.edu ›