RAEL Lunch Sem­i­nar, by Juan Pablo Car­vallo, Isa Fer­rall, and Ser­ena Patel 
"RAEL energy mod­el­ing efforts in East Africa" 
Novem­ber 6th @ 12:00 pm — 1:00 pm (Bar­rows 310)
Abstract:
Access to 'afford­able, reli­able, sus­tain­able, and mod­ern energy for all' is both a UN Sus­tain­able Devel­op­ment Goal, and a key enabler for nearly all of the other sus­tain­able devel­op­ment goals. In Sub-​​Saharan Africa in 2014, nearly 610 mil­lion indi­vid­u­als lacked access to energy as reported by the World Bank. There­fore, these economies face dual chal­lenges of sus­tain­ably expand­ing and improv­ing their energy sup­ply and reli­a­bil­ity while at the same time reduc­ing poverty.
The RAEL lab has engaged in many research efforts over the years with the goal of sus­tain­ably improv­ing energy access. Today, we will present a sam­ple of RAEL's recent energy mod­el­ing efforts in East Africa such as SWITCH Kenya, SWITCH Uganda, and the Grid and Access Plan­ning Model (GAP). We look for­ward to your insight and comments.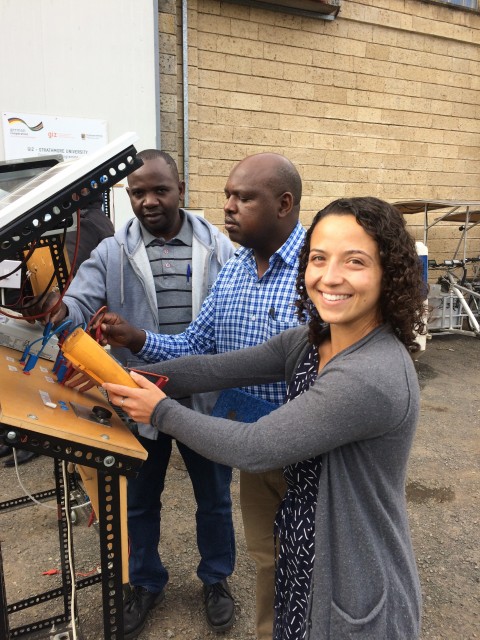 Fig­ure: Isa Fer­rall par­tic­i­pat­ing in a solar train­ing course at the Solar Energy Research Cen­ter at Strath­more Uni­ver­sity in Nairobi, Kenya.