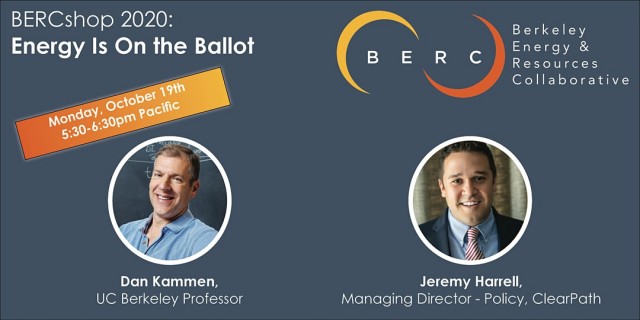 Dan Kam­men is the Found­ing Direc­tor of the Renew­able and Appro­pri­ate Energy Lab­o­ra­tory, and a pro­fes­sor in the Energy and Resources Group, the Gold­man School, and the Depart­ment of Nuclear Engi­neer­ing.  He served as Sci­ence Envoy in the Obama Admin­is­tra­tion,  and pre­vi­ously served as Chief Tech­ni­cal Spe­cial­ist for Renew­able Energy and Energy Effi­ciency at the World Bank.
Jeremy Har­rell is the Man­ag­ing Direc­tor for Pol­icy at ClearPath, whose mis­sion is to develop and advance con­ser­v­a­tive poli­cies that accel­er­ate clean energy inno­va­tion. To advance that mis­sion, we develop cutting-​​edge pol­icy and col­lab­o­rate with aca­d­e­mics and indus­try. An entre­pre­neur­ial, young, strate­gic non­profit, ClearPath (501©(3)) part­ners with in-​​house and exter­nal experts on nuclear, car­bon cap­ture, hydropower, nat­ural gas, geot­her­mal, energy stor­age and energy inno­va­tion to advance our mission.
To reg­is­ter: click here.