AMORPHOUS SILICON (a-Si) PHOTOVOLTAIC SYSTEMS IN KENYA
---
Photovoltaics Commercialization Support Project (East Africa)
Kenya is the hub of an active and internationally important regional market for photovoltaic (PV) solar home systems. Over 100,000 systems and more than 2 MWp have been installed in Kenya over the past decade. As a result, a recent wave of grants and development assistance programs have targeted photovoltaics, with East Africa as one of the primary target regions. Important programs are currently in place or about to be implemented to support the PV industries in Indonesia, Ghana, Mexico, Kenya, Morocco, Uganda, Zambia and Zimbabwe. Critical to the maturation and sustainability of the international and regional PV industries are: (1) an understanding of the performance history of systems currently in use in the field; (2) an expanded training capacity to support local entrepreneurs, vendors, installers, and PV service companies as well as consumers of PV systems.

The work described here is from a joint project between RAEL and Energy Alternatives AFRICA (EAA) of Nairobi, Kenya. The project was made possible with generous funding from the Dexter Trust. In this project we evaluated the performance and condition of single junction amorphous silicon (a-Si) modules used in PV systems installed in Kenya, and used this opportunity to provide additional training and market analysis opportunities for local East African renewable energy entrepreneurs. We carefully surveyed a-Si PV systems and measured PV module performance in each site. We analyzed the data in order to establish the survival rate and performance of a-Si modules in field operating conditions and to identify equipment and institutional options that could benefit the private PV industry and the end-user community in East Africa. We are sharing the results with solar rural electrification projects, manufacturers, dealers and end-users as well as the international development community through publications, correspondence, and regional workshops.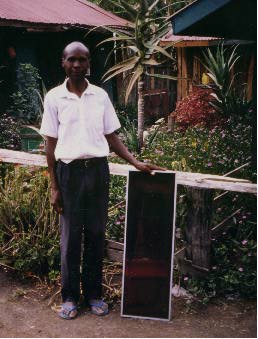 A farmer shows off an a-Si PV module at his home near Nanyuki, Kenya
This project meets three key needs in the emerging market for solar home systems: (1) an immediate need for accurate information on photovoltaic home system performance both as the systems age and as a way to compare actual versus advertised performance; (2) provides a field-based collaborative training opportunity for local entrepreneurs, emerging researchers, and community participants; and (3) more generally, this work provides a tested model for the evaluation of system performance that can be adapted and adopted by PV programs worldwide.
A second phase of this project will be to integrate the system performance data into a larger study to evaluate the future of public sector, multinational donor, and private-sector photovoltaic commercialization.

David Khisa of EAA testing an a-Si PV module

Maina Mumbi, freelance rural technician,
installing an a-Si PV module
RAEL and Energy Alternatives AFRICA (EAA) recently co-hosted a workshop in Nairobi, Kenya entitled, "Workshop on Small Solar Electric Systems: Market Opportunities in East Africa," on January 18, 2000. Arne Jacobson, a Ph.D. student in RAEL, presented a paper on the performance of amorphous silicon PV modules in Kenya.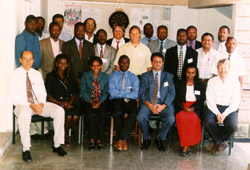 Nairobi PV Workshop Participants
---
PBS KQED-TV Green Means Production
The PBS (KQED-TV, San Francisco) Green Means series has just produced and is airing throughout this Spring, Kenya Solar: Using Solar Energy in Remote Locations, a short piece focusing on RAEL's work in Kenya to help develop a photovoltaics market. The Green Means series produces short stories about ordinary people whose lifestyles and activities are making positive contributions to the environment. See the Broadcast Schedule and view the Video (using RealPlayer). (4/22/2000)
Press Release
Study finds that small size a-Si modules perform well in field.
Support for this project has been provided by:
The Dexter Environmental Trust
The Woodrow Wilson School of Public and International Affairs, Princeton University
U.S. Environmental Protection Agency STAR Program
The Link Energy Foundation
---
References
Jacobson, A., Duke, R.D., and Kammen, D.M., (2000) "Amorphous Silicon PV Panels: Are They a Good Value for the Money?", Solarnet, 2(2), Nairobi, Kenya. (PDF)

Duke R.D., Graham S., Hankins M., Jacobson A., Kammen D.M., Osawa B., Pulver S., and Walther E., (2000) "Field Performance Evaluations of Amorphous Silicon (a-Si) Photovoltaic Systems in Kenya: Methods and Measurements in Support of a Sustainable Commercial Solar Energy Industry", ESMAP, World Bank.(PDF)
---
Resources


You will need Adobe Acrobat Reader to download the above documents

Back to the Top

Last updated 10/5/2000

---

RAEL Home | Mission | About RAEL | Lab Members
Projects | Publications | RAEL News
Public Outreach | Support RAEL | Contact Us