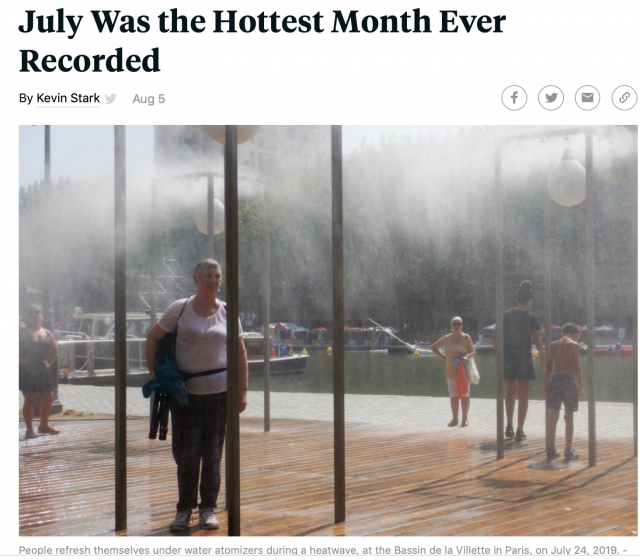 In the lat­est sign the Earth is under­go­ing unprece­dented warm­ing, Euro­pean sci­en­tists said Mon­day that July was the hottest month ever recorded.
"While July is usu­ally the warmest month of the year for the globe, accord­ing to our data it also was the warmest month recorded glob­ally, by a very small mar­gin," Jean-​​Noël Thé­paut, head of the Euro­pean Union's Coper­ni­cus Cli­mateChange Ser­vice, said in a statement.
Last week, cit­ing the lat­est data, United Nations Sec­re­tary Gen­eral António Guter­res told reporters that the world is fac­ing a "cli­mate emer­gency."  He noted the July num­bers were even more sig­nif­i­cant because the pre­vi­ous record-​​beating month, July 2016, occurred dur­ing one of the strongest El Nino's on record. The weather phe­nom­e­non, which causes more storm sys­tems to form, also tends to con­tribute to higher temperatures.
"We have always lived through hot sum­mers," Guter­res said. "But this is not the sum­mer of our youth. This is not your grandfather's summer."
In a news release, the sci­en­tists at Coper­ni­cus framed July's heat against the goals out­lined in the Paris cli­mate agree­ment, which aims to keep the increase in global aver­age tem­per­a­tures less than 3.6 degrees Fahren­heit (2 degrees Cel­sius) above prein­dus­trial levels.
Even at that those increased tem­per­a­tures, the effects on Earth's envi­ron­ment would be dra­matic, includ­ing ris­ing sea lev­els and more fre­quent droughts and famines.
The July tem­per­a­ture was close to 2.2 degrees Fahren­heit (1.2 degrees Cel­sius) above those in the prein­dus­trial era. Since then, the Earth has warmed about 1.8 degrees Fahren­heit, accord­ing to  the United Nations Inter­gov­ern­men­tal Panel on Cli­mate Change.