NEWS

Why America's power grids will keep failing us (Salon)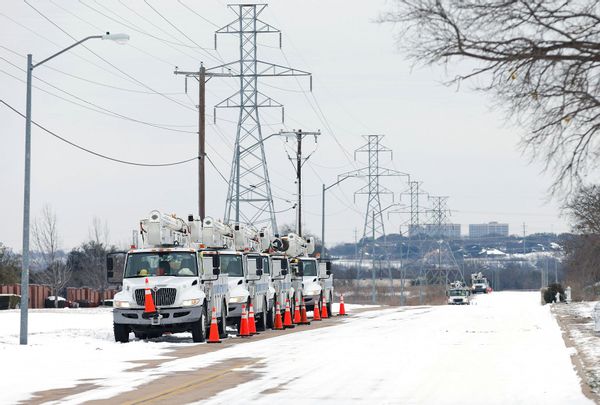 Nicole Karlis, Salon.
Link to the orig­i­nal arti­cle in Salon, click here.
Wednes­day marked the third day that many Tex­ans found them­selves with­out power fol­low­ing a rare win­ter storm and frigid tem­per­a­tures dip­ping into the low 20s. While power is being restored in some areas, rotat­ing out­ages are expected to start on Wednes­day in Texas.
The sit­u­a­tion is dire for many Tex­ans. Accord­ing to The New York Times, at least 23 peo­ple have died as of Wednes­day morn­ing. Emer­gency rooms saw a wave of peo­ple with car­bon monox­ide poi­son­ing, the after­math of attempts to keep warm. Like­wise, clean water access is a grow­ing issue as pipes freeze in the Lone Star State.
And Texas isn't alone: As the rem­nants of the win­ter storm make its way across the Mid­west, and a sec­ond win­ter storm looms in the North­east, rolling power out­ages are pop­ping up in parts of Mis­souri, Louisiana, Ohio, West Vir­ginia, Ken­tucky, and Ore­gon. The sit­u­a­tion is eerily sim­i­lar to what hap­pened in Cal­i­for­nia last sum­mer, when rolling black­outs were sparked by a demand-​​driven energy short­age; then, a mas­sive heat wave increased air con­di­tioner use and forced rolling power out­ages. Those black­outs were the first of their kind since 2001 when Cal­i­for­nia faced an elec­tric­ity crisis.
All these recent inci­dents are rais­ing con­cerns over the fragility of the country's frag­mented power grid, and how vul­ner­a­ble these sys­tems are to extreme weather events com­pounded by cli­mate change.
So what went wrong in Texas?