NEWS

Interview of Governor Jerry Brown with Dan Kammen
For the May 2021 orig­i­nal in Break­throughs Mag­a­zine of Rausser Col­lege of Nat­ural Resources: click here.
Inter­view by Dan Kam­men | Spring 2021Jerry Brown, BA '61 Clas­sics, co-​​chairs the California-​​China Cli­mate Insti­tute. He served as the 34th and 39th gov­er­nor of Cal­i­for­nia, from 1975 to 1983 and from 2011 to 2019. While he was gov­er­nor, Cal­i­for­nia estab­lished nation-​​leading tar­gets to pro­tect the envi­ron­ment and fight cli­mate change, and by 2030 the state will reduce green­house gas emis­sions to 40 per­cent below 1990 lev­els, dou­ble the rate of energy-​​efficiency sav­ings in its build­ings, and reduce petro­leum use in cars and trucks by up to 50 per­cent, in part by putting five mil­lion zero-​​emission vehi­cles on California's roads. Under a law and an exec­u­tive order Brown signed, Cal­i­for­nia will gen­er­ate 100 per­cent of its elec­tric­ity from renew­able sources and achieve car­bon neu­tral­ity by 2045.
Launched in 2019, the California-​​China Cli­mate Insti­tute (CCCI) is chaired by for­mer Cal­i­for­nia gov­er­nor
Jerry Brown
, BA '61 Clas­sics, and China's top cli­mate change offi­cial,
Xie Zhen­hua
. A part­ner­ship between the Uni­ver­sity of Cal­i­for­nia sys­tem and the Insti­tute of Cli­mate Change and Sus­tain­able Devel­op­ment at Tsinghua Uni­ver­sity, the insti­tute is co-​​housed in Rausser Col­lege of Nat­ural Resources and Berke­ley Law. CCCI is focused on joint research, train­ing, and dia­logue between the U.S. and China, with the goal of advanc­ing cli­mate action. Pro­fes­sor Dan Kam­men, a for­mer U.S. State Depart­ment sci­ence envoy who serves on the aca­d­e­mic advi­sory com­mit­tee for CCCI, recently sat down with Brown to dis­cuss goals for the insti­tute, how research can affect pol­icy more quickly, and rea­sons for opti­mism on cli­mate change.
Kam­men
: You've had a long and busy career. Why have you cho­sen to focus your time now on cli­mate change, and why is UC Berke­ley the best place to do so?
Brown: There are many impor­tant issues, but to me, cli­mate change super­sedes them all. As the pre­mier pub­lic uni­ver­sity glob­ally and in Cal­i­for­nia, which also hap­pens to be close to Sacra­mento, UC Berke­ley was a nat­ural fit for this insti­tute, and we're excited to con­nect lead­ing researchers here with those in China. Addi­tion­ally, in China there's a lot of respect for and inter­est in col­lab­o­rat­ing with the Uni­ver­sity of California.
What are your goals for the institute?
Our pri­mary goal is to advance part­ner­ships between the U.S. and China and to encour­age dia­logue on cli­mate change and all that is entailed in address­ing it. So much of the dis­cus­sion around inter­na­tional affairs is about national secu­rity; there's very lit­tle talk of com­mon inter­ests or vul­ner­a­bil­i­ties. A key objec­tive for this insti­tute is to change that. It doesn't have to just be about what's good for Cal­i­for­nia or the United States or what's good for China: our inter­ests are inter­wo­ven just as the web of life is interwoven.
We share mem­ber­ship in the human race, liv­ing at a time when tech­nol­ogy makes us ever more inter­de­pen­dent. We ought to rec­og­nize that and base our actions, think­ing, and research on that fact. Sci­en­tists know it, but politi­cians are almost con­gen­i­tally inca­pable of rec­og­niz­ing a com­mon interest.
That con­cept is crit­i­cal, and it strikes me that with your involvement—having con­ver­sa­tions with lead­ers in both countries—there's an oppor­tu­nity for the insti­tute to affect pol­icy quickly. The time to make a dif­fer­ence on cli­mate has shrunk so dra­mat­i­cally. We've got to get the ideas right and get action in place.
Exactly. Researchers from all over the world already work together: that's the hall­mark of sci­ence. Sci­ence leads to tech­no­log­i­cal inno­va­tion, and inno­va­tion informs gov­ern­ment poli­cies. Zero-​​emission vehi­cles, car­bon pric­ing, build­ing effi­ciency, decar­boniz­ing the elec­tric grid—that all has to hap­pen very fast. We must clar­ify the stakes, elu­ci­date the path for­ward, explain the eco­nomic and social costs, and deter­mine the tech­no­log­i­cal hur­dles. We have to move knowl­edge more quickly from the mar­gins of sci­ence and acad­e­mia into the minds of bureau­crats, pol­icy mak­ers, politi­cians, and pub­lic officials.
I also see the need for more mutual, benign com­pet­i­tive­ness, which can moti­vate and gal­va­nize a greater effort on the part of both the U.S. and China.
So in addi­tion to work­ing on joint solu­tions, we can encour­age friendly com­pe­ti­tion to see who can accel­er­ate decar­boniza­tion more quickly?
Yes. There's so much atten­tion on what we don't like about China, with lit­tle atten­tion to what we need to do. Hon­estly fac­ing our hur­dles and road­blocks would give us more empa­thy and insight into what China is fac­ing and allow for more can­dor and truth about how both nations can oper­ate at the level of change.
We haven't suf­fi­ciently con­fronted the sheer beast of eco­nomic, social, and polit­i­cal iner­tia in our own coun­try. It's pretty over­whelm­ing, and in fact I often mar­vel that you appear to be so…I won't say opti­mistic, but you don't look overwhelmed.
Dan Kam­men is the direc­tor of the Renew­able and Appro­pri­ate Energy Lab­o­ra­tory. He has par­al­lel appoint­ments in Rausser College's Energy and Resources Group, the Gold­man School of Pub­lic Pol­icy, and the Depart­ment of Nuclear Engi­neer­ing. He was appointed the first Envi­ron­ment and Cli­mate Part­ner­ship for the Amer­i­cas Fel­low by then–secretary of state Hillary Clin­ton in April 2010. He shares the 2007 Nobel Peace Prize as a con­trib­u­tor to a report for the Inter­gov­ern­men­tal Panel on Cli­mate Change.
I'm not over­whelmed, and you're partly to thank for that. As gov­er­nor, you presided over the growth of a solar indus­try in Cal­i­for­nia that went from pas­sion­ate but small to now employ­ing more peo­ple than all three of our state's util­i­ties. Whether it is solar, bat­tery stor­age, off­shore wind, or inte­grat­ing food pro­duc­tion into urban areas, there are many excit­ing things that could fol­low the model that you helped champion.
It starts with some­one hav­ing a great idea. The institute's role is trans­lat­ing the good think­ing of our researchers into digestible pol­icy sug­ges­tions. Amer­i­can politi­cians don't spend much of their time think­ing about cli­mate change. So we have to get them think­ing about it.
For­tu­nately, the Biden admin­is­tra­tion has made cli­mate action and green jobs a pri­or­ity. Are you hope­ful about the role of the United States on cli­mate change going forward?
I think it's very impor­tant that Amer­ica com­pletely move beyond the Trump era and start tak­ing seri­ous actions, and then in that con­text we can push other major pol­luters like China and India to do like­wise. Fed­eral lead­er­ship was on hia­tus for four years, but the world has made incred­i­ble progress in talk­ing about cli­mate. Now we have to do cli­mate. The fact that we have John Kerry as U.S. spe­cial pres­i­den­tial envoy for cli­mate and Gina McCarthy as domes­tic cli­mate czar is promis­ing. Biden's focus on jobs is an inte­gral com­po­nent of cli­mate action. We need to keep our eye on a path for­ward, one that will employ bil­lions of peo­ple while also avoid­ing cli­mate disaster.
Cal­i­for­nia is try­ing its best to be on that path of reach­ing the goals of the Paris Agree­ment. Are you opti­mistic about the state and the nation get­ting there?
We're much fur­ther today than I would have envi­sioned just a few years ago. Now we even have a few oil com­pa­nies talk­ing about peak oil or net car­bon neutrality—that's a sea change. And because of the focus chang­ing at com­pa­nies here and world­wide, because of the elec­tion of Biden and the appoint­ments he's mak­ing, I think we can do it.
We need to keep up the momen­tum. Gov­er­nor [Gavin] New­som has set a tar­get of achiev­ing only zero-​​emission vehi­cles in Cal­i­for­nia that's ear­lier than the tar­get I had pre­vi­ously set. Good—he's rais­ing the bar. Let's do more.
In 2013, China's top cli­mate change offi­cial, Xie Zhen­hua (left), and then-​​governor Jerry Brown signed an agree­ment to boost coop­er­a­tion on cli­mate change. Photo cour­testy of the Office of Gov­er­nor Brown.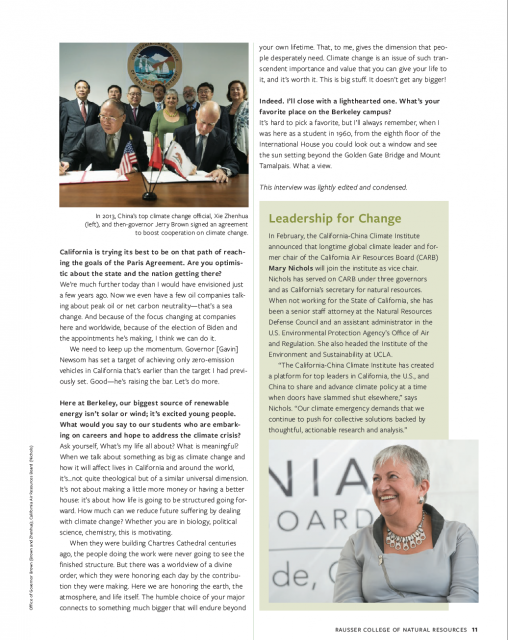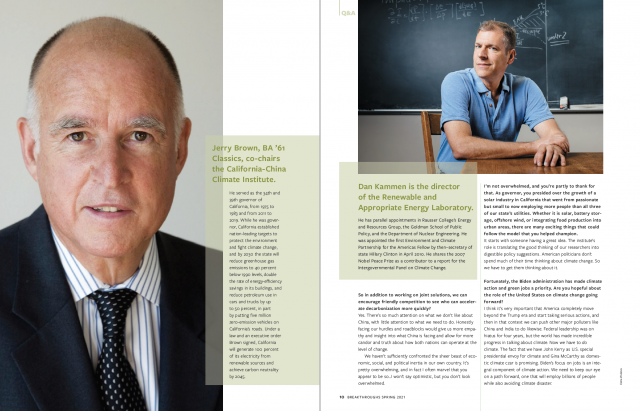 Kam­men: 
Here at Berke­ley, our biggest source of renew­able energy isn't solar or wind; it's excited young peo­ple. What would you say to our stu­dents who are embark­ing on careers and hope to address the cli­mate crisis?
Brown: Ask your­self, What's my life all about? What is mean­ing­ful? When we talk about some­thing as big as cli­mate change and how it will affect lives in Cal­i­for­nia and around the world, it's…not quite the­o­log­i­cal but of a sim­i­lar uni­ver­sal dimen­sion. It's not about mak­ing a lit­tle more money or hav­ing a bet­ter house: it's about how life is going to be struc­tured going for­ward. How much can we reduce future suf­fer­ing by deal­ing with cli­mate change? Whether you are in biol­ogy, polit­i­cal sci­ence, chem­istry, this is motivating.
When they were build­ing Chartres Cathe­dral cen­turies ago, the peo­ple doing the work were never going to see the fin­ished struc­ture. But there was a world­view of a divine order, which they were hon­or­ing each day by the con­tri­bu­tion they were mak­ing. Here we are hon­or­ing the earth, the atmos­phere, and life itself. The hum­ble choice of your major con­nects to some­thing much big­ger that will endure beyond your own life­time. That, to me, gives the dimen­sion that peo­ple des­per­ately need. Cli­mate change is an issue of such tran­scen­dent impor­tance and value that you can give your life to it, and it's worth it. This is big stuff. It doesn't get any bigger!
Kam­men: Indeed. I'll close with a light­hearted one. What's your favorite place on the Berke­ley campus?
Brown: It's hard to pick a favorite, but I'll always remem­ber, when I was here as a stu­dent in 1960, from the eighth floor of the Inter­na­tional House you could look out a win­dow and see the sun set­ting beyond the Golden Gate Bridge and Mount Tamal­pais. What a view.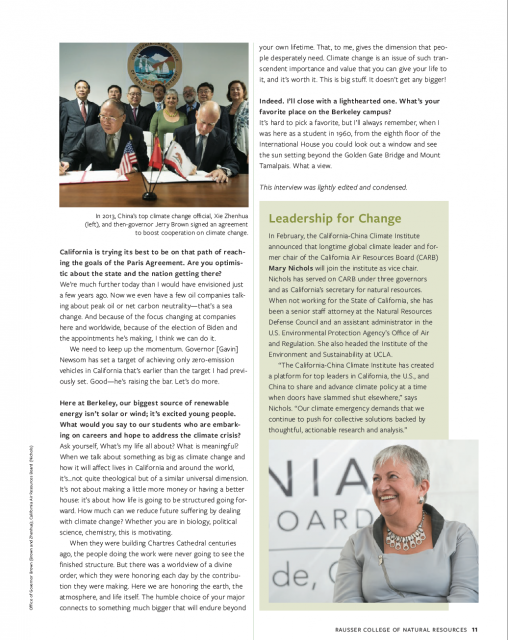 In Feb­ru­ary, the California-​​China Cli­mate Insti­tute announced that long­time global cli­mate leader and for­mer chair of the Cal­i­for­nia Air Resources Board (CARB) Mary Nichols will join the insti­tute as vice chair. Nichols has served on CARB under three gov­er­nors and as California's sec­re­tary for nat­ural resources. When not work­ing for the State of Cal­i­for­nia, she has been a senior staff attor­ney at the Nat­ural Resources Defense Coun­cil and an assis­tant admin­is­tra­tor in the U.S. Envi­ron­men­tal Pro­tec­tion Agency's Office of Air and Reg­u­la­tion. She also headed the Insti­tute of the Envi­ron­ment and Sus­tain­abil­ity at UCLA.
"The California-​​China Cli­mate Insti­tute has cre­ated a plat­form for top lead­ers in Cal­i­for­nia, the U.S., and China to share and advance cli­mate pol­icy at a time when doors have slammed shut else­where," says Nichols. "Our cli­mate emer­gency demands that we con­tinue to push for col­lec­tive solu­tions backed by thought­ful, action­able research and analysis."