A gash in an under­wa­ter pipeline sent tens of thou­sands of gal­lons of oil rush­ing into the waters near Los Ange­les last week­end, black­en­ing beachesand endan­ger­ing wildlife.
While the US Coast Guard believes a ship's anchor may have dam­aged the pipeline months ago, California's age­ing oil infra­struc­ture will also bear increas­ing scrutiny. Experts say that the dev­as­tat­ing spill is unlikely to be the last, espe­cially in a rapidly chang­ing indus­try where equip­ment is primed to suf­fer from under­in­vest­ment and lack of attention.
"We are in store for more spills," says Daniel Kam­men, a researcher at the Uni­ver­sity of Cal­i­for­nia, Berke­ley. "And it's not because spills just happen."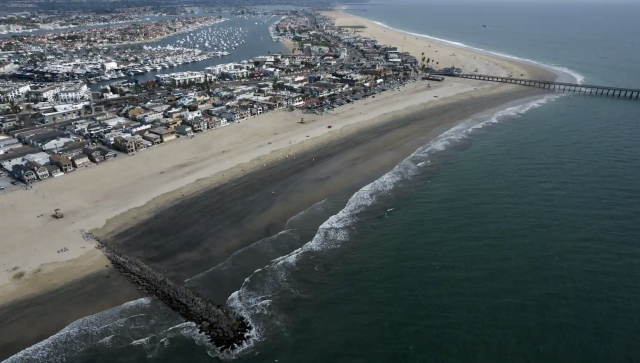 Part of the issue is California's tran­si­tion away from fos­sil fuels and toward green energy. The state has some of the most ambi­tious cli­mate goals in the coun­try, aim­ing for net-​​zero emis­sions by 2045. As a result, infra­struc­ture to sup­port fos­sil fuel extrac­tion is being phased out in favor of greener tech­nolo­gies. But in the mean­time many oil rigs remain in oper­a­tion, and com­pa­nies may be dis­in­clined to invest in a sec­tor that's slowly going out of business.
"Oper­a­tions and main­te­nance are expen­sive, espe­cially if you don't see a grow­ing future in this area," says Kam­men, who was part of a
The spill is major but nowhere near the really big ones, says Richard Ambrose, a pro­fes­sor and researcher at UCLA who mon­i­tored the cleanup after the Exxon Valdez oil spill in 1989. He adds that this cur­rent spill has a lot of sim­i­lar­i­ties to the 2015 Refu­gio spill in near Santa Bar­bara: "It ranks in the mid-​​tier."
A lot of the dam­age depends on how quickly a response can be mobi­lized and on ocean con­di­tions, Ambrose says. "The biggest ques­tion here is how much oil comes to shore and for how long," he says, and that depends on ocean cur­rents and winds.
This spill has already reached the Tal­bert Marsh, a 25-​​acre sen­si­tive and valu­able habi­tat along the coast. "Wet­lands are the most sen­si­tive to oil and they also sup­port a lot of sen­si­tive species," Ambrose explains. "That's the habi­tat we'd like to pro­tect and we haven't been suc­cess­ful for all of them."
Lisa Levin, an oceanog­ra­pher at UC San Diego's Scripps Insti­tu­tion of Oceanog­ra­phy, says oil spills have a direct impact on shore birds and marine mam­mals – but they also affect food webs and smaller organ­isms that ulti­mately will reach com­mer­cial species. "All of this puts more stress on the ecosys­tem that is already cop­ing with cli­mate change and con­t­a­m­i­nants," she says.
Ambrose says the sooner Cal­i­for­nia can move to renew­able energy, the sooner we won't have to be mov­ing oil around – but that's not going to hap­pen in the imme­di­ate future. "In all the ways we move oil, they are sub­ject to acci­dents. This pipeline is just one way, and there's a whole oil trans­porta­tion net­work, with thou­sands of spills every year."
team that won the 2007 Nobel peace prize for their work on the cli­mate cri­sis. "We see this in other indus­tries – for exam­ple the under­in­vest­ment in recy­cling, or car man­u­fac­tur­ers that are phas­ing out cer­tain classes of vehi­cles. Acci­dents, risks and costs all go up."
The south­ern Cal­i­for­nia spill occurred in fed­eral waters at the Elly rig, owned by Amplify Energy, about five miles off­shore. The state declared an end to new off­shore oil drilling 50 years ago, and the fed­eral gov­ern­ment stopped issu­ing new leases 35 years ago. Yet there are still four rigs in Cal­i­for­nia waters and 22 in fed­eral waters off the coast of the state. Together, they pro­duce about an aver­age of 12,200 bar­rels of oil per day – only a frac­tion of a per cent of the total used in the US.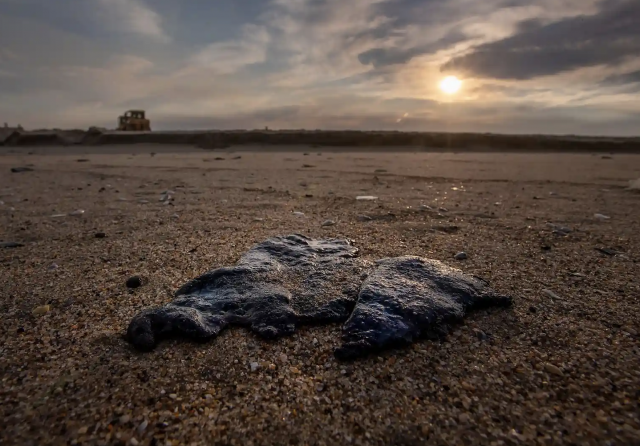 A Stan­ford study found that California's oil is some of the most expen­sive in the world to extract – in terms of eco­nomic costs but also cli­mate costs. The easy oil was sucked out decades ago, and the oil that remains is dif­fi­cult to reach and requires more energy, mean­ing more green­house gas emissions.