Daniel Kam­men, Pro­fes­sor of Energy at the Uni­ver­sity of Cal­i­for­nia, Berke­ley, will present, "An Energy Plan the Earth Can Live With," at 4 p.m. Mon­day, May 7, in Guyot Hall, Room 10.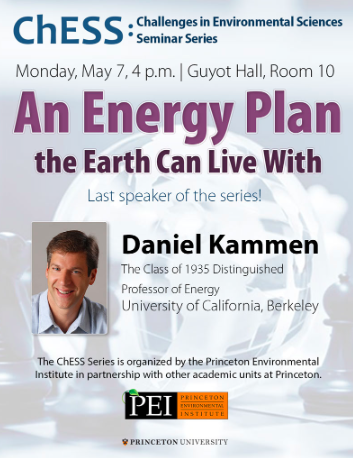 Kam­men is the eighth and final speaker in the Chal­lenges in Envi­ron­men­tal Sci­ences Sem­i­nar (CHESS) Series orga­nized by PEI in coop­er­a­tion with cam­pus partners.
Kam­men will look in overview at clean-​​energy projects at scales from off-​​grid solar-​​energy sys­tems to mini-​​grids and decar­boniza­tion efforts in the United States, China, Nicaragua, Kenya and South­east Asia. He will review a num­ber of spe­cific areas of energy-​​system inno­va­tion, includ­ing in energy stor­age and infor­ma­tion man­age­ment sys­tems for mini-​​grid oper­a­tion. He will exam­ine how ana­lytic and prac­ti­cal field-​​based efforts both decar­bonize com­mu­ni­ties across scales and estab­lish frame­works to meet the Paris cli­mate accord.
Kam­men was appointed the first Envi­ron­ment and Cli­mate Part­ner­ship for the Amer­i­cas Fel­low by Sec­re­tary of State Hilary Clin­ton in April 2010.
Kam­men has served as a con­tribut­ing or coor­di­nat­ing lead author for the Inter­gov­ern­men­tal Panel on Cli­mate Change since 1999.  Th IPCC shared the 2007 Nobel Peace Prize.
From 2010–2011, he was the World Bank Group's chief tech­ni­cal spe­cial­ist for renew­able energy and energy effi­ciency, in which he helped enhance renewable-​​energy and energy-​​efficiency activ­i­ties and expand the institution's role in pro­mot­ing cleaner, more sus­tain­able energy.
Before join­ing UC-​​Berkeley, Kam­men was an assis­tant pro­fes­sor of pub­lic and inter­na­tional affairs at Prince­ton, as well as direc­tor of the Pro­gram in Sci­ence, Tech­nol­ogy and Envi­ron­men­tal Pol­icy (STEP) and PEI asso­ci­ated fac­ulty. He received his doc­tor­ate in physics from Har­vard Uni­ver­sity in 1988.