NEWS

What's at Stake for the Climate in the 2016 Election? Everything
BY MARIANNE LAVELLE, INSIDECLIMATE NEWS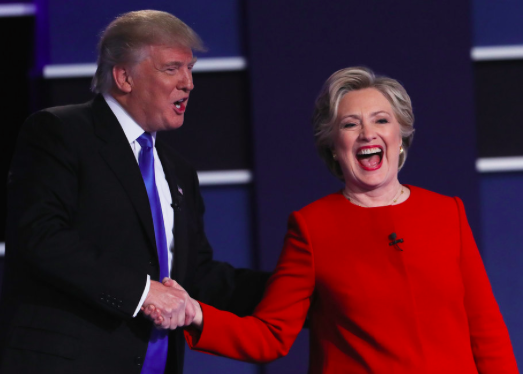 Fol­low­ing the first pres­i­den­tial debate between Hillary Clin­ton and Don­ald Trump, the gulf between the can­di­dates has never seemed deeper, per­haps most alarm­ingly so on cli­mate change.
The elec­tion shapes up as the most sig­nif­i­cant pos­si­ble choice when it comes to cli­mate pol­icy. Clin­ton, though not com­mit­ted to a swift tran­si­tion away from fos­sil fuels, vows to build on the cli­mate poli­cies of the Obama admin­is­tra­tion and live up to U.S. com­mit­ments to the Paris accord. Trump, in con­trast, pledges to elim­i­nate the Envi­ron­men­tal Pro­tec­tion Agency and "can­cel" the Paris agree­ment.
More fun­da­men­tally, the elec­tion is a choice between one can­di­date who accepts the global sci­en­tific and polit­i­cal con­sen­sus on the causes and cures for cli­mate change, and one who rejects both.
"The 2016 pres­i­den­tial elec­tion can really be seen as the most impor­tant ref­er­en­dum on cli­mate change, and on pos­i­tive action to make the planet a liv­able place," said Daniel Kam­men, physi­cist and founder of the Renew­able and Appro­pri­ate Energy Lab­o­ra­tory at the Uni­ver­sity of Cal­i­for­nia, Berkeley.
"Sec­re­tary Clin­ton and Don­ald Trump dif­fer more on clean energy and on cli­mate change than on any other issue."
Peter Clark, a pale­o­cli­ma­tol­o­gist at Ore­gon State Uni­ver­sity who co-​​authored a study in Nature Cli­mate Change that cal­cu­lated the global warm­ing that already is inevitable, said the deci­sions made in the next few years will have pro­found con­se­quences. "If we delay any longer, we're just com­mit­ting our­selves to greater impact, and greater eco­nomic costs," he said. "We are falling off the cliff as far as what we need to do to com­bat emissions."
Why is this elec­tion so cru­cial for cli­mate action? Here are the major ways the next U.S. pres­i­dent can influ­ence the arc of history:
Paris Agree­ment
The Paris agree­ment is the first cli­mate pact that requires emissions-​​cutting com­mit­ments from every one of the 191 nations that have signed it. And it demands a world­wide trans­for­ma­tion to carbon-​​free energy some­time in the sec­ond half of this cen­tury. For its part, the U.S. has pledged to cut green­house gas emis­sions by up to 28 per­cent below its 2005 level in 2025.
If he were elected, Trump would not have the power to "can­cel" the agree­ment, which is a legally bind­ing pact under inter­na­tional law, and which will already have entered into force by the time he takes office. The United States, hav­ing already rat­i­fied the deal, tech­ni­cally wouldn't be able
to exit until 2020, after giv­ing two years' notice. But Trump could evis­cer­ate the treaty by direct­ing that the U.S. do noth­ing. The U.S. is the second-​​biggest car­bon pol­luter behind China, respon­si­ble for 18 per­cent of cur­rent annual emis­sions and 26 per­cent cumu­la­tively. If it were not com­mit­ted to deep cuts, there would be no mean­ing­ful solu­tion to the global cli­mate crisis.
"Such a deci­sion would make it far more dif­fi­cult to develop effec­tive global strate­gies for mit­i­gat­ing and adapt­ing to cli­mate change," 375 mem­bers of the National Acad­emy of Sci­ences, includ­ing 30 Nobel Prize win­ners wrote in an open let­ter express­ing alarm at the pos­si­bil­ity of an exit from the Paris accord. "The con­se­quences of opt­ing out of the global com­mu­nity would be severe and long-lasting—for our planet's cli­mate and for the inter­na­tional cred­i­bil­ity of the United States."
With­out nam­ing him, the let­ter included an extra­or­di­nary rebuke of the Repub­li­can Party for nom­i­nat­ing Trump. "It is of great con­cern that the Repub­li­can nom­i­nee for Pres­i­dent has advo­cated U.S. with­drawal from the Paris Accord," the sci­en­tists wrote.
Like the U.S. exit from the 1997 Kyoto Pro­to­col, which Pres­i­dent George W. Bush for­mally renounced in his first year in office, a U.S. "Parexit" also would inflame the resent­ment from the poor­est, most vul­ner­a­ble coun­tries, who con­tributed the least to global warm­ing, but are suf­fer­ing the great­est impacts.
"It could start to unwind the web that ten­u­ously holds it together," said Michael Oppen­heimer, an atmos­pheric sci­en­tist at Prince­ton Uni­ver­sity, who has served as an adviser to the Clin­ton cam­paign. "It doesn't take very much for coun­tries to start dis­trust­ing each other, when the most influ­en­tial coun­try doesn't live up to its commitments."
Clean Power Plan
Clin­ton has pledged to "defend, imple­ment, and extend" the Clean Power Plan—President Obama's sig­na­ture cli­mate pol­icy to cut car­bon pol­lu­tion from the nation's elec­tric power sys­tem. Even with the Clean Power Plan, U.S. pol­icy doesn't go far enough to meet the U.S. goals under the Paris agree­ment, as a new peer-​​reviewed study in Nature shows. But the new reg­u­la­tions would take a vital step by tack­ling the sin­gle largest source of U.S. global warm­ing emissions.
If the Clean Power Plan is upheld by the courts (it was put on hold by the Supreme Court in Feb­ru­ary and is cur­rently being argued in a fed­eral appeals court), it would also lay a ground­work for more rig­or­ous action to cut emis­sions from oil, cement and other industries.
"A Clin­ton admin­is­tra­tion would be about gap-closing—broadening into new emit­ting sec­tors, and going deeper into oth­ers," says pol­icy ana­lyst Kevin Book, of Wash­ing­ton, D.C.'s Clearview Energy Part­ners, which con­ducts research for insti­tu­tional investors and cor­po­rate strategists.
Trump has vowed to rescind the Clean Power Plan within his first 100 days in office.
He has even said he wants to abol­ish the Envi­ron­men­tal Pro­tec­tion Agency, which is respon­si­ble for car­ry­ing it out. That's no small feat, given that the agency was cre­ated by law—one signed by Pres­i­dent Nixon. Trump has named a promi­nent cli­mate sci­ence denier and long­time foe of reg­u­la­tion, Myron Ebell of the con­ser­v­a­tive Com­pet­i­tive Enter­prise Insti­tute, to lead his EPA tran­si­tion team. The admin­is­tra­tion might even move more quickly to gut the reg­u­la­tions by ask­ing Con­gress to elim­i­nate the bud­get to enforce it, quite likely an easy ask if the Repub­li­cans retain control.
It would be dif­fi­cult for a Trump admin­is­tra­tion to undo the Clean Power Plan, if it's upheld by the fed­eral courts. But the next pres­i­dent will name the next Supreme Court jus­tice, and it's a given the high court will decide the Clean Power Plan. The jus­tices could even revisit their 2007 rul­ing that car­bon diox­ide is a pol­lu­tant under the Clean Air Act—the under­pin­ning of all EPA green­house gas rules.
The loss of the Clean Power Plan would erode the foun­da­tion on which the Paris treaty is built. Oppen­heimer points out that after Con­gress failed to pass a cap-​​and-​​trade bill early in Obama's first term, the administration's drive to develop an alter­na­tive path was crit­i­cal in bring­ing China to the bar­gain­ing table for the joint cli­mate agree­ment between the world's two largest car­bon emit­ters that was inked in Novem­ber 2014. That deal, in turn, set the stage for the Paris pact the fol­low­ing year.
"With­out U.S. domes­tic lead­er­ship, there is no China agree­ment," said Oppen­heimer. "And with­out China bel­ly­ing up to do its part, there is no Paris accord. That's why U.S. lead­er­ship on both the domes­tic and inter­na­tional level remains a cru­cial ele­ment of global progress on cli­mate change."
Energy Pol­icy
Clinton's energy plat­form, essen­tially an exten­sion of Pres­i­dent Obama's all-​​of-​​the-​​above strat­egy with no firm goals to reduce oil and gas drilling, has dis­ap­pointed many pro­gres­sives in the Demo­c­ra­tic Party. As Sec­re­tary of State, she pur­sued an ini­tia­tive to pro­mote U.S. frack­ing tech­nolo­gies over­seas. Her cam­paign has received dona­tions from Wash­ing­ton, D.C. lob­by­ing groups that have oil and gas clients. She has refused to take a posi­tion on a car­bon tax.
Dur­ing the Demo­c­ra­tic pri­mary, Bernie Sanders' call to keep fos­sil fuels in the ground ener­gized his fol­low­ers and pres­sured Clin­ton to move fur­ther to the left on energy issues. She for­mally came out against the Key­stone XL pipeline, called for an end to drilling in the Arc­tic and off the Atlantic coast and called for restric­tions on frack­ing and other drilling.
She also touts a renew­able energy plan that includes installing a bil­lion solar pan­els in the United States by 2020 and gen­er­at­ing enough renew­able elec­tric­ity to power every home  in Amer­ica in the next 10 years.
Cli­mate sci­en­tists and activists agree that Clinton's plan does not go far enough, but are com­mit­ted to elect­ing her and push­ing her fur­ther once she is in office.
"If you look at the math, if your goal is to keep the tem­per­a­ture increase below 1.5 degrees, you have to not only stop fur­ther devel­op­ment, you have to dis­man­tle the fos­sil fuel infra­struc­ture we have in place," said Jacob Scherr, an attor­ney who is for­mer direc­tor of the inter­na­tional cli­mate pro­gram at the Nat­ural Resources Defense Coun­cil. "I share what Bernie Sanders is say­ing. I really do believe we need a real mobi­liza­tion of resources, tech­nolo­gies, and engage­ment. But I say to folks if you're for all that, you want to sup­port Hillary Clin­ton in a big way because she has the poten­tial for deliv­er­ing on that vision."
Trump, on the other hand, has not released the kind of detailed, and cohe­sive energy pol­icy typ­i­cally devel­oped by pres­i­den­tial can­di­dates. In the one speech where he laid out his vision, at a North Dakota frack­ing indus­try con­fer­ence, he grandly promised to achieve "com­plete Amer­i­can energy inde­pen­dence," vow­ing that under his admin­is­tra­tion, the coun­try would extract as many fos­sil fuels from the ground as it can.  A study in Nature last year cal­cu­lated that glob­ally, a third of oil reserves, half of nat­ural gas reserves and 80 per­cent of cur­rent coal reserves need to remain in the ground to have even a 50–50 chance of lim­it­ing warm­ing to rel­a­tively safe levels.
It is clear by Trump's rhetoric and choice of advis­ers, includ­ing Ebell and Harold Hamm, chief exec­u­tive of the lead­ing frack­ing firm Con­ti­nen­tal Resources, that he would work to roll back any restric­tions that he feels bur­den fos­sil fuel suppliers.
Trump is not likely to suc­ceed in his promise to reju­ve­nate U.S. coal production—a refrain he has tar­geted to swing states that have lost min­ing jobs, like Ohio and Penn­syl­va­nia. That's because the losses are due largely to mar­ket forces, namely, com­pe­ti­tion from nat­ural gas and renew­ables, as well as fed­eral pol­lu­tion reg­u­la­tions. "No mat­ter how much he might wish it, he can­not bring back coal demand that has been extin­guished by the mar­ket," said Book.
On oil and gas devel­op­ment, though, a Trump admin­is­tra­tion would be able to remove bar­ri­ers now in place and squelch fur­ther reg­u­la­tions. He has vowed to rescind the EPA's Waters of the U.S. rule that was final­ized ear­lier this year, a mea­sure that was meant to clar­ify fed­eral pro­tec­tion for thou­sands of water­ways and wet­lands, which is vig­or­ously opposed by the frack­ing indus­try in North Dakota. On Trump's short list for Inte­rior Sec­re­tary, sources have said, is another oil exec­u­tive, For­rest Lucas, the co-​​founder of Indiana-​​based Lucas Oil.  Trump has promised to "lift mora­to­ri­ums on drilling in fed­eral areas," which are all under Interior's purview.
Trump's no-​​holds-​​barred energy devel­op­ment vision has done more to gal­va­nize envi­ron­men­tal­ists' sup­port for Clin­ton than her own tem­pered embrace of cli­mate pol­icy.  "If we have a cli­mate denier in the White House, we will lose momen­tum, and the result will be that we will race past a 1.5-degree increase on the way to 2 degrees," said Scherr. "Don­ald Trump can fool a lot of peo­ple, but you can't fool Mother Nature."