NEWS

The Guardian Op Ed: Climate crisis will deepen the pandemic. A green stimulus plan can tackle both
April 20, 2020
For the orig­i­nal in The Guardian, as part of Earth Day cov­er­age, click here.
The Covid-​​19 epi­demic is rav­aging our tat­tered health­care sys­tem and shred­ding our econ­omy. In the past month, over 22 mil­lionAmer­i­cans filed for unem­ploy­ment ben­e­fits, com­pound­ing the fear that unem­ploy­ment could breach 32% absent mas­sive pub­lic action. This is an unmit­i­gated human dis­as­ter, recall­ing the hor­rors of the Great Depres­sion. And it gets worse. We're also fac­ing the cli­mate emer­gency. Imme­di­ate relief is nec­es­sary – but not suf­fi­cient. To tackle all these crises at once, we need a Green Stim­u­lus that cre­ates jobs and lifts up com­mu­ni­ties in ways that also slash car­bon pol­lu­tion, increase resiliency, and develop a just, mod­ern economy.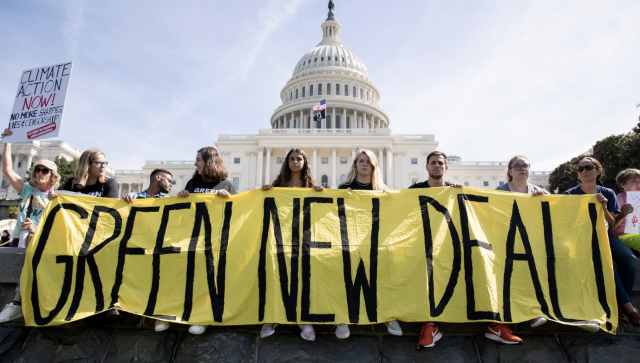 No one can pre­dict when Speaker Nancy Pelosi and Pres­i­dent Don­ald Trump will turn their full atten­tion to eco­nomic recov­ery. But behind the scenes, the plan­ning has already begun. It's not a ques­tion of whether we spend big on stim­u­lus, but what kind of stimulus.
And while Repub­li­cans will decry any­thing "green", we can win the argu­ment. But much of what we pro­pose already has bipar­ti­san sup­port, from polling to pend­ing leg­is­la­tion.
Cli­mate change is about to super­charge the coro­n­avirus emer­gency. In April, California's wild­fire sea­son will start. Restric­tions on work caused by the pan­demic will make it harder for fire­fight­ers to con­duct con­trolled burns that steer fires – and smoke – from homes. Cal­i­for­ni­ans' lungs could face Covid-​​19 and unusu­ally intense smoke at the same time. A third of the coun­try also faces seri­ous flood risk through the spring. And in sum­mer and fall, fore­cast­ers pre­dict "above aver­age prob­a­bil­ity for major hur­ri­canes mak­ing land­fall along the con­ti­nen­tal United States". We're already see­ing this cat­a­strophic con­ver­gence else­where: In Ecuador, a muted gov­ern­ment response to flood­ing in indige­nous com­mu­ni­ties, for fear of spread­ing the virus; in Fiji, dev­as­tated by Cyclone Harold this week, 19 con­firmed coro­n­avirus cases are cast­ing doubt on how to rebuild.
Here too, we will need to find ways to do the needed relief work with­out deep­en­ing the pan­demic. Amid all this suf­fer­ing, the case for bold moves to tackle the mis­eries of inequal­ity, Covid, and cli­mate at once will get clearer.
More­over, green stim­u­lus is the only option for a smooth tran­si­tion to the 21st cen­tury green econ­omy. The era of dirty energy is end­ing. Even the con­ser­v­a­tive CBNC ana­lyst Jim Cramer has warned investors that oil stocks are no longer safe invest­ments, as soci­ety is increas­ingly repu­di­at­ing fos­sil fuels. Giant investors like Black­rock are grad­u­ally wind­ing down their invest­ments in car­bon. And at the Euro­pean level, and in coun­tries like Ger­many and South Korea, a green stimulus-​​based recov­ery is becom­ing the con­sen­sus choice, with invest­ments in effi­ciency and clean energy seen as obvi­ous dri­vers of eco­nomic reconstruction.