NEWS

One way to combat Russia? Move faster on clean energy
Sammy Roth — Feb­ru­ary 26, 2022 - Los Ange­les Times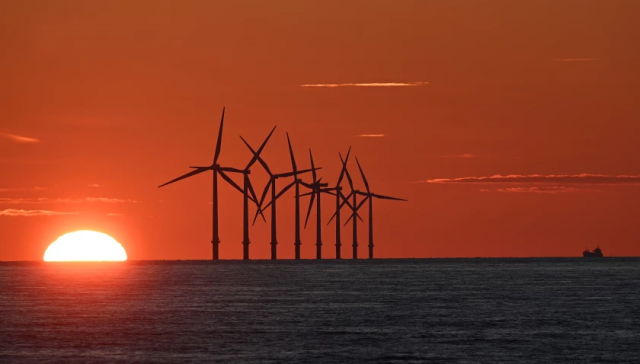 (Paul Ellis /​ AFP/​Getty Images)
Direct link: https://www.latimes.com/business/story/2022–02-26/one-way-to-combat-russia-move-faster-on-clean-energy
When a geopo­lit­i­cal cri­sis sent gaso­line prices sky­rock­et­ing four decades ago, Pres­i­dent Carter called on Amer­i­cans to achieve "energy inde­pen­dence" from Mid­dle East­ern oil exporters. He installed solar pan­els on the White House, donned a cardi­gan sweater to stay warm and took steps to boost domes­tic oil production.
Russia's inva­sion of Ukraine has again upended global energy sup­plies, threat­en­ing to raise gas prices that are already higher than ever in Cal­i­for­nia. The U.S. oil indus­try wants Pres­i­dent Biden to ease restric­tions on drilling, and Europe has already started import­ing more fos­sil fuel from the United States to reduce its depen­dence on Russ­ian supplies.
But dou­bling down on oil and nat­ural gas isn't the answer, some secu­rity experts say — and nei­ther is energy independence.
The war in Europe adds to the urgency of tran­si­tion­ing to clean energy sources such as solar and wind power that are harder for bad actors such as Rus­sia to dis­rupt, those experts say. The con­flict also high­lights the impor­tance of the U.S., the Euro­pean Union and other allies work­ing together to con­front the cli­mate cri­sis while tak­ing global secu­rity into account.
"There's been a lot of con­cern about depen­dence on Russ­ian [nat­ural] gas, and whether that inhibits coun­tries' abil­ity to stand up to Rus­sia," said Erin Siko­rsky, direc­tor of the Wash­ing­ton, D.C.-based Cen­ter for Cli­mate and Secu­rity. "The more that coun­tries can wean them­selves off oil and gas and move toward renew­ables, the more inde­pen­dence they have in terms of action."
It's also impor­tant to remem­ber that cli­mate change poses a major national secu­rity threat, with the Defense Depart­ment and other fed­eral offi­cials warn­ing last year that wors­en­ing climate-​​fueled haz­ards are likely to drive a surge in global migra­tion, stok­ing polit­i­cal insta­bil­ity. That helps explain why the U.S. Army released its first-​​ever cli­mate strat­egy this month, set­ting a goal of slash­ing its planet-​​warming emis­sions in half and pow­er­ing all bases with climate-​​friendly elec­tric­ity by 2030.
Siko­rsky pointed out that Defense Sec­re­tary Lloyd J. Austin III has called China the "pac­ing threat" for the U.S., mean­ing it poses greater sys­temic chal­lenges than any other nation. The cli­mate emer­gency, Siko­rsky said, is America's "shap­ing threat."
"It is shap­ing every­thing in the back­ground now that the United States is deal­ing with," she said.
Even before Russ­ian Pres­i­dent Vladimir Putin launched his attack on Ukraine this week, Euro­pean nations were mak­ing plans to cut their reliance on energy exports from Rus­sia. The coun­try sup­plies more than one-​​quarter of Europe's oil and nearly 40% of its nat­ural gas, a dif­fer­ent planet-​​warming fuel used for heat­ing and elec­tric­ity generation.
But Russ­ian aggres­sion has sped up the E.U.'s plans. Euro­pean offi­cials are expected to release a strat­egy next week for reduc­ing the continent's use of fos­sil fuels by 40% over eight years, and ramp­ing up non-​​polluting energy sources.
It's a plan designed to slow the cli­mate cri­sis, which is wreak­ing havoc around the world by exac­er­bat­ing wild­fires, floods, droughts and heat waves. But cut­ting back on fos­sil fuels would also help to limit Russia's geopo­lit­i­cal influence.