Sammy Roth - February 26, 2022 - Los Angeles Times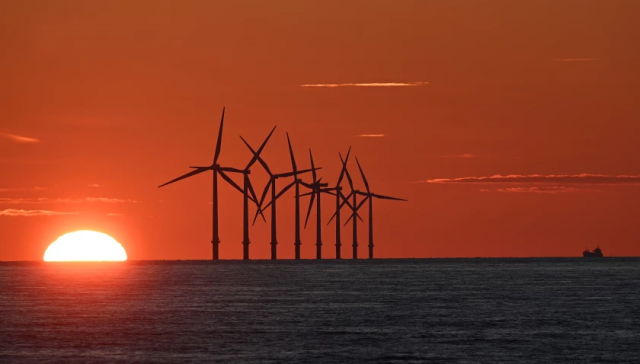 (Paul Ellis / AFP/Getty Images)

Direct link: https://www.latimes.com/business/story/2022-02-26/one-way-to-combat-russia-move-faster-on-clean-energy When a geopolitical crisis sent gasoline prices skyrocketing four decades ago, President Carter called on Americans to achieve "energy independence" from Middle Eastern oil exporters. He installed solar panels on the White House, donned a cardigan sweater to stay warm and took steps to boost domestic oil production. Russia's invasion of Ukraine has again upended global energy supplies, threatening to raise gas prices that are already higher than ever in California. The U.S. oil industry wants President Biden to ease restrictions on drilling, and Europe has already started importing more fossil fuel from the United States to reduce its dependence on Russian supplies. But doubling down on oil and natural gas isn't the answer, some security experts say — and neither is energy independence. The war in Europe adds to the urgency of transitioning to clean energy sources such as solar and wind power that are harder for bad actors such as Russia to disrupt, those experts say. The conflict also highlights the importance of the U.S., the European Union and other allies working together to confront the climate crisis while taking global security into account. "There's been a lot of concern about dependence on Russian [natural] gas, and whether that inhibits countries' ability to stand up to Russia," said Erin Sikorsky, director of the Washington, D.C.-based Center for Climate and Security. "The more that countries can wean themselves off oil and gas and move toward renewables, the more independence they have in terms of action." It's also important to remember that climate change poses a major national security threat, with the Defense Department and other federal officials warning last year that worsening climate-fueled hazards are likely to drive a surge in global migration, stoking political instability. That helps explain why the U.S. Army released its first-ever climate strategy this month, setting a goal of slashing its planet-warming emissions in half and powering all bases with climate-friendly electricity by 2030. Sikorsky pointed out that Defense Secretary Lloyd J. Austin III has called China the "pacing threat" for the U.S., meaning it poses greater systemic challenges than any other nation. The climate emergency, Sikorsky said, is America's "shaping threat."

"It is shaping everything in the background now that the United States is dealing with," she said. Even before Russian President Vladimir Putin launched his

attack on Ukraine

this week, European nations were making plans to cut their reliance on energy exports from Russia. The country supplies more than one-quarter of Europe's oil and nearly 40% of its natural gas, a different planet-warming fuel used for heating and electricity generation. But Russian aggression has sped up the E.U.'s plans. European officials are

expected

to release a strategy next week for reducing the continent's use of fossil fuels by 40% over eight years, and ramping up non-polluting energy sources. It's a plan designed to slow the climate crisis, which is

wreaking havoc around the world

by exacerbating wildfires, floods, droughts and heat waves. But cutting back on fossil fuels would also help to limit Russia's geopolitical influence.