[caption id="attachment_1915" align="aligncenter" width="640"]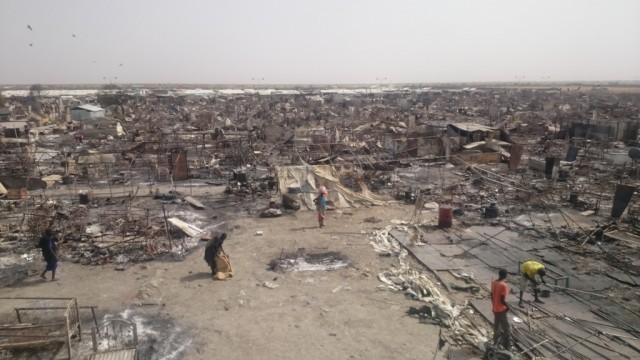 Camp for internally displaced persons in Malakal, South Sudan, following February 2016 violence[/caption] For a brief video introduction to the program, click here. Launched in May 2016, this new ini­tia­tive focuses on the increas­ing over­lap of con­flict and cli­mate change, and the potential of renewable energy as a tool for peace building and conflict prevention. The pro­gram will com­bine research, policy-​​based advo­cacy and oper­a­tional pro­gram­ming in conflict-​​risk coun­tries. The empha­sis of the pro­gram is on action with three related goals: First, to build stronger links between the com­mu­ni­ties work­ing on con­flict pre­ven­tion and those work­ing on cli­mate change. Sec­ond, to help encour­age the use of clean energy devel­op­ment pro­grams as accepted tools for peace build­ing and con­flict pre­ven­tion, including through pilot projects in conflict-risk or crisis settings. Third, to high­light the oppor­tu­ni­ties for peace build­ing and inclu­sive polit­i­cal mobi­liza­tion that come from a shared threat of cli­mate change.
The Challenge
Climate change is having a significant impact on livelihoods and natural resource scarcity, contributing to conflicts in countries such as Sudan, Syria, Somalia and Nigeria. Many of the worst affected geographies – in Africa, the Middle East and Southeast Asia - include countries with a history of conflict. Existing international institutions are often siloed in their approach to cross-cutting issues such as climate change. Conflict-risks are usually met with security-first solutions, such as peacekeeping missions, and the relevant international institutions have yet to adapt to the growing impacts of climate change as a driver of conflict. Given that the negative impacts of climate change are expected to increase, we anticipate the role of climate change as a driver of conflict to grow, particularly in the most fragile states. Though these States are minimally responsible for climate change and global greenhouse gas emissions, they currently receive only a small fraction of the global climate-related financing, while often struggling to attract outside investment, and thus are likely to remain vulnerable to potentially worsening climate change-related cycles of conflict. Despite this worrying trendline, there is not yet a meaningful response to these new risks.  
The Solution
The Program seeks to address this gap by harnessing the potential of renewable energy in conflict-affected areas based on the following assumptions:
Recent advances in renewable energy technology, declining costs and international mobilization following the Paris Climate Agreement present a unique and potentially revolutionary new opportunity to address problems associated with intractable conflict, particularly in climate-affected states. Renewable energy offers cheap, clean and reliable power to millions of people without access to electricity in parts of Africa and Southeast Asia, the two regions most severely impacted by climate change;
Renewable energy provides a unique opening for pro-peace, pro-development investment in climate-impacted conflict-risk countries. Investment in renewable energy has dramatically increased and now comprises the vast majority of global climate-related financing ($292BN out of $391BN total in 2014 climate financing). However, little of this is flowing to the worst climate impacted or conflict-risk areas, (for example, only 3% (~$12BN) of 2014 climate financing was spent in sub-Saharan Africa.);
Renewable energy provides a potentially powerful new entry-point for peace building by facilitating cooperation between conflict parties on an issue, and creates energy infrastructure that is reliable, clean, scalable and easily distributed.
The Approach
Our work will demonstrate and build the case, through the implementation of pilot programming with partners, that renewable energy can serve as a tool for peace building while creating long-term and scalable energy assets and infrastructure that will underpin development and further reinforce stability. We are currently developing pilot programs in South Sudan, Chad and Myanmar. We will test these ideas with the goal of eventually reshaping thinking on the use of renewable energy in peace building, humanitarian and development programming.
Team
Under the overall leadership of Dr. Dan Kammen, the found­ing direc­tor of RAEL and pro­fes­sor of Energy, our team includes experts in renewable energy and climate change, as well as conflict prevention and peace building. David Mozersky is the Founding Director of the Program on Conflict, Climate Change and Green Development. An expert on Sudan and South Sudan, he has been involved in con­flict pre­ven­tion efforts in Africa since 2001, with a specific interest in mediation, negotiation and peace processes. He has worked with the Inter­na­tional Cri­sis Group, the African Union High-Level Panel on the Sudans, and Human­ity United, among others. He has written extensively about the conflicts and peacemaking efforts in the Horn of Africa, and has testified or presented before the U.S. Senate and House of Representatives, the Canadian Parliament, and South Sudanese Parliament. David has authored and co-authored more than two dozen International Crisis Group reports and briefing papers, and his writing has appeared in the Harvard International Review, International Herald-Tribune, Financial Times-Europe, and other publications. Senior Fellows
David Williams was selected as one of Time Magazine's Innovators of the Year. He has been an advisor for US Department of State, merit reviewer for the US Department of Energy's SunShot program, technical reviewer for Sandia National Laboratory, solar advisor for USAID, and contributor to National Renewable Energy Laboratory. Mr. Williams has been involved in developing renewable energy projects in the Caribbean, Americas, Europe, Middle East, Asia and Africa.
Sherwin Das most recently served as the Chief of Political Affairs for the United Nations Regional Office for Central Africa. He has designed and implemented conflict prevention and peace building strategies, policies and programming for the UN Department of Peacekeeping Operations, the UN Department of Political Affairs and the United Nations Development Programme in the Balkans, Eastern Europe and Africa. Following a stint in the UN's Mediation Support Unit in New York, he served as the UN's Peace and Development Advisor in Moldova.
Alex Thier is a leading thinker and policy maker on international development, poverty reduction, and inclusive growth. As Founder and CEO of Triple Helix, Alex is working with a variety of organizations on expanding renewable energy access, strategic planning, and addressing fragile states. As a senior U.S. government official from 2010 to 2015, he led internal and external policy-making, reform, and implementation for USAID representing the U.S. government at the highest levels of international engagement on development policy and finance and managing a $10 billion+ portfolio of programs. He played a leadership role in the creation and implementation of several major US and international initiatives, including the Vision to End Extreme Poverty, the Sustainable Development Investment Partnership, and Power Africa. Alex has held leadership positions in the UN, Stanford University, USIP, and several NGOs. He's authored and co-authored books, articles, and op-eds in The New York Times, Foreign Affairs, and Foreign Policy, and appears frequently in international media.
Advisory Board
Suzanne Goldenberg is an award-winning journalist and author who has covered war and social upheaval from India to Israel to Iraq. For the last seven years, she has been exploring one of the greatest challenges of this century: climate change. She spent more than 20 years as a journalist for The Guardian, working as a foreign correspondent, war reporter, political writer, and environmental specialist. Goldenberg was one of the few western reporters who remained in Baghdad in 2003 to cover the US invasion of Iraq. She was on the campaign trail for three US presidential elections. In 2007, Goldenberg wrote a book about the historic nature of  the 2008 campaign,  "Madam President: Is America ready to send Hillary Clinton to the White House?", which looked at the role of gender in US and international politics. Her earlier book, Pride of Small Nations, was the first in-depth look at the history and politics of the Caucasus states following the break-up of the former Soviet Union in 1992. Goldenberg is equally at home negotiating the politics of Congress and international climate diplomacy as she is operating in remote and hostile environments. She has written about the human cost of climate change from the Amazon to the Arctic to Abu Dhabi, as well as US and global responses to the rising threat. She is a frequent commentator on US and international radio and television.
Elliott Donnelley is a Founding General Partner of White Sand Investor Group, LG, a fifth generation investment partnership of the Chicago-based RR Donnelley family. In this role, he has increasingly focused on the nexus between investment for financial return and investment for social and environmental impact. Elliott is an advisor and/or co-founder of a number of ventures, including Ethic Inc., My Bliss, The China Philanthropy Forum, and KD Venture Partners. He is also on the boards of trustees of Synergos and the Philanthropy Workshop, and on the board of Stanford's Global Project Center, where he promotes research on innovative models in philanthropy and impact investing. Elliott is a graduate of Yale University and spent years living and working in Beijing, where he still has strong ties in the philanthropy and impact investing industries.
Dr Youba Sokona has over 35 years of experience addressing energy, environment and sustainable development in Africa, and has been at the heart of numerous national and continental initiatives. He coordinated the scoping, framing and development of the "Africa Renewable Energy Initiative". Reflecting his status, Dr Sokona was elected Vice-Chair of the Intergovernmental Panel on Climate Change (IPCC) in October 2015. Prior to this, Dr Sokona was Co-Chair of IPCC Working Group III on the mitigation of climate change for the Fifth Assessment Report after serving as a Lead Author since 1990. In addition to these achievements, Dr Sokona has a proven track record of organisational leadership and management, for example as Inaugural Coordinator of the African Climate Policy Centre (ACPC) and as Executive Secretary of the Sahara and the Sahel Observatory (OSS). Dr Sokona's advice is highly sought after, and as such, he is affiliated with numerous boards and organisations, including as a Member of the Board for the Institute of Development Studies, as a Honourary Professor at the University College London (UCL), and as a Special Advisor to the African Energy Leaders Group.