SWITCH (Solar and wind energy inte­grated with trans­mis­sion and con­ven­tional sources) is a lin­ear pro­gram­ming mod­el­ing plat­form used to exam­ine least cost energy sys­tems designed to meet spe­cific reli­a­bil­ity, per­for­mance and envi­ron­men­tal qual­ity standards.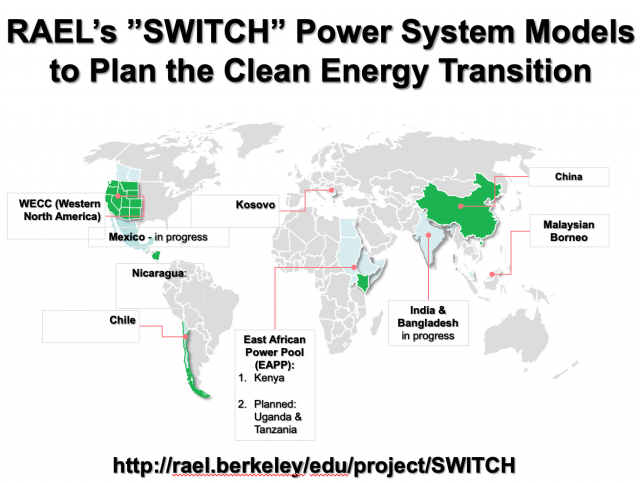 SWITCH is a capac­ity expan­sion model that invests in new gen­er­a­tion and trans­mis­sion assets as well as in end-​​use and demand-​​side man­age­ment options (includ­ing elec­tri­fied vehi­cles and stor­age) with a high-​​resolution assess­ment and plan­ning pack­age to explore the sys­tem per­for­mance rest­ing from dif­fer­ent scenarios.
SWITCH was ini­tially devel­oped for Cal­i­for­nia, but has been expanded and refined to explore energy choices across the US West (the WECC, Chile, Nicaragua, China), with future plans to cover the East African Power Pool (EAPP) and India.
A wide range of SWITCH pub­li­ca­tions are in print and in use at var­i­ous energy, cli­mate, and devel­op­ment agencies.