Inter­mit­tent power sources like wind and solar will require sup­port­ing the grid with long-​​duration storage—a con­cept we are just begin­ning to explore.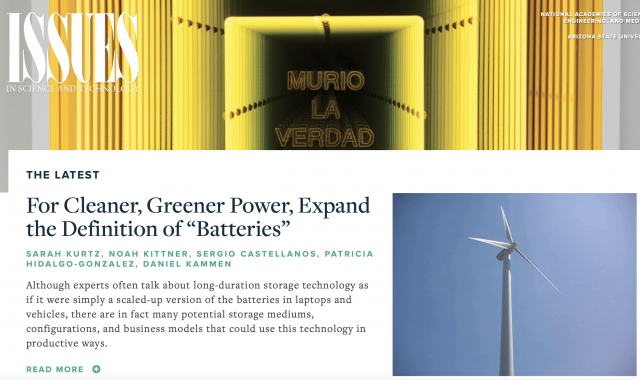 Cita­tion:
Kurtz, Sarah, Noah Kit­tner, Ser­gio Castel­lanos, Patri­cia Hidalgo-​​Gonzalez, and Daniel Kam­men. "For Cleaner, Greener Power, Expand the Def­i­n­i­tion of 'Bat­ter­ies.'" Issues in Sci­ence and Tech­nol­ogy (June 11, 2021).
For the orig­i­nal, click here.
URL:
https://​issues​.org/​c​l​e​a​n​-​g​r​e​e​n​-​i​n​t​e​r​m​i​t​t​e​n​t​-​p​o​w​e​r​-​s​t​o​r​a​g​e​-​b​a​t​t​e​r​i​e​s​-​k​u​r​t​z​-​k​i​t​t​n​e​r​-​c​a​s​t​e​l​l​a​n​o​s​-​h​i​d​a​l​g​o​-​g​o​n​z​a​l​e​z​-​k​a​m​m​en/